Welcome to the very first edition of Reptile & Amphibian Ecology Online -- RAEI's quarterly e-newsletter. Tell your friends and colleagues about it so they too can keep in touch with the goings-on in the world of lizards, snakes, frogs, and their kin. Forward this email generously!

Facebook: Join our Facebook group to keep up to date, browse photos, and participate in our activities.

Help Wanted: We are looking for graphic designers and IT professionals to donate their time towards helping us with development of websites, logos, posters, and other print materials. Get in touch if you are interested, and pass the word to others who might be.


We completed our first Amazonian Photography Workshop in March. We visited Jatun Sacha in Ecuador as well as a new site in the remote Amazon, where no herpetologists had previously set foot. Check out our photo gallery for images of this experience. Also, thanks to Josh Shagam as our first workshop participant. He will be posting pics from his experience on his website. Find out about how you can participate in our next workshop this August -- spots are still available.
A couple of spots are still available for our June 2009 Ecuadorian rainforest research expeditions. They are a great opportunity to experience the rainforest while helping us make discoveries that will help save animals and ecosystems. Get your application in ASAP to be considered.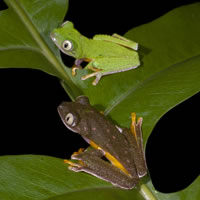 Day and night colors of Hylomantis hulli (Hull's Leaf Frog) from our latest photo workshop

In our February research expedition to Ecuador, we visited a new study site, Reserva Jama-Coaque. We are proud to announce our new partnership with Third Millennium Alliance, the nonprofit parent organization for Jama-Coaque, and look forward to a long and productive relationship with them.
We also are proud to announce our partnership with Save the Frogs!, a nonprofit organization dedicated to amphibian conservation. As part of this partnership, we are promoting Save the Frogs Day 2009 on April 28th. Visit the event website to learn how to participate.
Brent Anderson, a participant in February's research expedition to western Ecuador and fine-art photographer, has posted images from his trip on his website. Brent has also generously offered to donate a portion of proceeds from sales of his photos to RAEI. Check out his site today!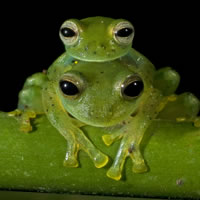 (glass frogs in amplexus at
Reserva Jama-Coaque)

The image at top is a two-striped forest pit viper (Bothriopsis bilineata smaragdinus) taken on our most recent Amazonian Photography Workshop.
See more images in our latest galleries from our Amazonian Photography Workshop and western Ecuador research expeditions.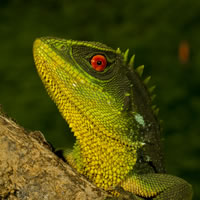 Tiny-scale dwarf forest lizard (
Enyalioides microlepis
) from one of our study sites in west Ecuador.
Field Notes features snippets from our field experiences. This observation is from our latest research expedition to western Ecuador.
February 16, 2009. Big Cat Sighting. Lalo Loor Reserve, Western Ecuador. David Copeland [one of our research participants] and I [Paul Hamilton] were running a herp transect through dry/humid transitional forest, walking slowly and quietly through the forest at night, when I looked off to my right and saw the biggest set of eyes I have ever seen staring right at me from about 15 meters away. The size of the eyes and the distance between them indicated a huge head and I knew right away: Big Cat! But just after I saw the eyeshine, I glanced away to call David over, looked back and it was gone -- silently even over the dry leaf litter. A few moments later it made a low, guttural, plaintive sound and that was the last I heard of it. Jaguar tracks have been found in the region, but no one I have talked to has seen one, or even knows anyone who has. Puma [Mountain Lion] are also found in the area, so I went back in the morning to see if our cat left any tracks, but there were none in the leaf litter. It will take time for Biologists to monitor the area for tracks and other signs to verify that this was indeed a Jaguar rather than a Puma. Either way, though, an amazing experience!
Addendum: Two days after this observation in Ecuador, a Jaguar was captured in our home state of Arizona. Sadly, 12 days later "Macho B", the United States' only Jaguar died as a result of his capture. That these magnificent animals are living on the edge in both Ecuador and Arizona points out the common struggles and causes we fight for not only on behalf of different types of animals and plants, but across borders as well. With luck and help, western Ecuador's Jaguar will fare better than Arizona's.