---
OPPORTUNITIES
Join Our Field Team
Photography Workshops
Intern or Volunteer
Educational Outreach Application
EC Project Documenting
EC Project Home
Internships Listings
Outreach Sample
Custom Workshops

e-Newsletter
---
Join a Photographic
Expedition to the
Amazon Rainforest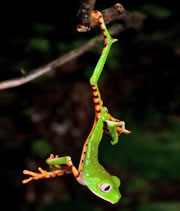 ---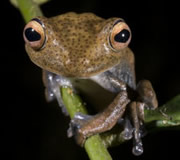 ---

RAEI HEADLINES
News:

Amphibian populations are declining across the globe!

2012-2013 Dates for Ecuador Rainforest Expeditions Announced--With Under 18 Amazon Trips

Our Spring research expeditions will be working a 10-mile transect across tropical dry forest, moist forest, and cloud forest Our two summer trips to the include an trip for ages 17 and under. You can apply to join us to understand these fragile ecosystems and the amazing animals that depend on them.

About the Project >>
Apply to the Project >>
Images >>

Our Latest Video
From Mexico

See footage of zippy zebra-tailed lizards, indigo snakes, and even a feeding Mexican beaded lizard from our latest expedition. Also see how you can join us next year!

What's that Lizard?
New RAEI Facebook Group Lets You Identify Reptiles and Amphibians

Not sure what that lizard, snake, turtle, frog, or salamander is that you found in your back yard, or anywhere in the world? Join our HerpGuide Facebook group that brings together experts in herpetology (the study of reptiles and amphibians) to help you understand the living world around you. Post a photo with location information to see what you found!

Check out HerpGuide! >>

New Research Expeditions and Photography Workshops in Alamos, Mexico

We are offering two new opportunities this Fall: an expedition to work hands-on with reptiles and amphibians in the tropical forests of Alamos, and a photography workshop .The research trips are rough and ready field experiences. The photo workshops offer the opportunity to capture images of creatures from both deserts and tropical forests. Just get yourself to Tucson, AZ, and we'll take it from there!

About the Research >>
Join an Expedition >>
Join a Photo Workshop>>

Cameras for Conservation

Want to put that old camera, GPS unit, snake hook and more to good use? You can donate it here (for a tax deduction) and we will use it to document the diversity of life. This program will help support biologists and guides in Ecuador, Mexico and Cameroon in their efforts to find and save biodiversity.

Donate now and
receive a free gift!

Now when you make a tax deductible donation of any amount, you will receive a copy of our now famous photo "Glass Frog's Heart". Help support our mission to save biodiversity though understanding of natural ecosystems and their fauna.

Evolution Through the Lens: A Photographic Workshop in the Galapagos Islands

You can join a photographic expedition with Biodiversity Photography, our photo organization, Dr. Paul Hamilton and accomplished photographer Michael Lustbader to Ecuador's Galapagos Islands. Learn all about the islands, their strange flora and outlandish fauna on a photographic island-hopping expedition.

Learn More & See Images >>


Amazon Photo Workshops

You can join a photographic expedition with Biodiversity Photography, our photo organization, and Dr. Paul Hamilton to Ecuador's wild Amazon Rainforest. We will be photographing and taking dSLR video of some of the smallest, but most spectacular, animals in the world. Our next expeditions will be held this February and March. Sign up soon to reserve your spot!

Learn More & See Images >>


Internship and Volunteer Positions

If you have some skills to offer and are passionate about animals, ecosystems, or photography, you can work with RAEI. We are looking for skilled assistance in all aspects of our organization, from biology and photography to fund-raising and information technology. Check out our listings for details!

See Our New Photo Site: BiodiversityPhotography.org!

We have just launched a complete rebuild of our photographic arts and sciences site. Visit today to explore the world of animals in images, buy a photo, or attend one of our workshops.

Visit our Photo Site >>


RAEI WORLDWIDE!
International Press Release

News of our findings have gone around the world. We are featured in over 20 major news outlets in 10 countries and countless blogs.

Read Our Press Release >>
Images From the Release >>
More Stories >>
See Our Latest Press Coverage >>

Follow us on Twitter

Visit Our Page >>

Join our Facebook Page!

Visit Our Page >>

40 Peaks in 40 Nights

We are pleased to announce our latest project in Ecuador. We will be using breakthrough techniques to undertake a unique journey of scientific discovery and conservation in a site where we have found at least 30 species of frog new to science. Find out how you can help!

Businesses: Donate to RAEI

Any business can support lizards, snakes frogs and more by donating 1% of their profits to RAEI.

Learn More >>

Introducing Custom
Macro Photography Workshops

Find out about how your class, organization, or group of friends can arrange a custom photo workshop anywhere in the United States. Custom-suited curricula can include technical, artistic, and practical applications of nature photography.

Learn More >>

Reptile & Amphibian Ecology Online

See our latest online newsletter and don't forget to subscribe with the form to upper left.
GET INVOLVED!

See 11 ways that you can
get involved to save animals
and ecosystems
---


---
MORE NEWS
IT and Web Design Intern or Volunteer Position Available
Materials Specialist Intern or Volunteer Position Available
We welcome educator and artist Stephanie Jo Bowman to our Board of Directors
Special thanks goes out to Lawson Hammock for providing gear and funds for our expeditions!
Welcome to photographer Michael Lustbader, the newest member of our Board of Advisors
Find out about our new Social Networking and News Internship.
Meet Derek O'Neil, a former research participant and now a member of our Board of Directors.
Sign up for Reptile and Amphibian Ecology Online, our quarterly newsletter (to the upper left of this page).
---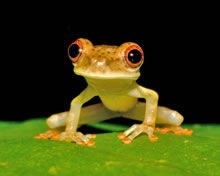 Is a frog just a frog?
We don't think so.
---
Herpetology: The branch of Zoology dealing with reptiles and amphibians.
As a group of herpetologists, we take a general approach to the study of life. Ecology, evolution and animal behavior are all part of our scientific repertoire.
---