Travel and Itinerary
Itinerary
This is a typical itinerary for our 14-day expeditions. Actual number of days at each site, as well as number of sites, will vary based on trip length. Other factors, such as weather or labor conditions, may also cause deviations from this schedule. Two-week expeditions will visit three of our four sites. Four and six week expeditions will visit some sites more than once, with a three day break in between sites. Participants staying for more than one expedition will have the option to vacation at Punta Prieta, stay with the group and go to Quito and back, or travel independently. Important: we are not responsible for expenses incurred in-between expeditions, nor are we responsible for your safety should you decide to travel independently of the rest of the group.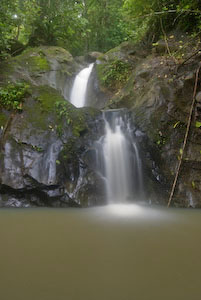 Day 1: Arrive in Quito, meet the staff and other participants and take a taxi to the hotel.
Day 2: We wake up early this morning and get a quick breakfast. We then take taxis to the bus terminal and start the sometimes adventurous trip down the Andes. We may have a chance for a short lunch or snack before arriving at our first night's accommodations, which will vary based on study site. Before dinner, we will have a field training session.
Day 3: We will start early to start to our field site. Depending on the site, we may require several hours, or even the entire day, riding busses, taxis, trucks, mules, and on foot to get to our field site. Upon arrival to our field site, we will set up camp and lab and then get ready for the first night's transect!
Days 4-9: These will be our typical field days. The night of the 9th day for coastal sites will be spent on one of our beach resort sites.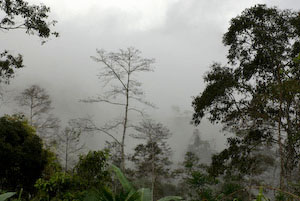 Day 10: We take the bus back up the Andes to Quito. For Amazonian trips, we will stop for several hours at Pappallacta hot springs for a steamy respite--quite welcome after 10 days of bathing in cold streams!
Once we get back to Quito, you are on your own to explore the city and countryside. There is plenty to see in Ecuador, and you might want to plan some extra days, or even weeks, after the project. Check with us about ideas for independent travel in Ecuador.
Accommodations
Accommodations will vary among sites. At La Perla, we will be camping, but will have food catered by a local restaurant and cold showers are available. At Pata de Pajaro and Rio Bigal, we will be camping in primite conditions. Food will be served by staff, and we may ask you to help out a bit in the kitchen. Bathing will be done in a local stream. Note: for crucial environmntal concerns, RAEI does not purchase or provide beef or shrimp at any time. Vegetarian meals are always available on request.

Important Travel Information
You will need to purchase airline tickets for roundtrip flights to Quito (via Houston, Miami, or Panama City), to arrive in Quito before the starting day of your project, and leaving after the last day. For all participants, a $44 airport exit fee must be paid, in cash, upon leaving the country, and is not an included expense. Ecuadorian currency is the U.S. dollar. A valid passport will be needed and should be applied for as soon as possible if you don't already have one. IMPORTANT: your passport must not expire until at least six months after your date of arrival. Verify that your passport is valid for the exact dates of travel. For participants with non-US passports, you may need to apply for a visa as well, contact the Ecuadorian consulate for the most current requirements.
For many points of departure in the US, flights can generally be purchased for $1,000 or less, and sometimes as low as $650. After landing, you will be met at the airport and brought to our hotel in Quito. You will then be escorted throughout the trip by your group leaders, although there will be some opportunities to explore the areas independently or in groups away from the main study areas. However, if you are arriving earlier than the day before your expedition, you must arrange your own transportation to the hotel.
You also need to consult a physician about traveling to Ecuador, and acquire traveler's insurance. You will be required to sign an affidavit to confirm these steps one month prior to departure. Your traveler's insurance must have a medical evacuation clause; we recommend at least $50,000 medical evacuation coverage. Basic insurance for travelers under age 30 can be found at www.TripPlus.com, which starts at $25. More complete coverage can be found at www.insuremytrip.com, an agent site which will let you choose from many options.
Some references that might come in handy for traveling and working in Ecuador are:
US Department of State Passport Application Page
The US Centers for Disease Control and Prevention web site for travel to Ecuador: wwwn.cdc.gov/travel/destinationEcuador.aspx. A good place to research on your own, and be prepared when you consult with a physician prior to travel. 
The Ecuadorian embassy in Washington, D.C., will have the latest travel document requirements.
Travelers' Wildlife Guides Ecuador and the Galapagos Islands by Pearson, Beletsky and Barrett 2007. This is a good, but very general, traveling guide to Ecuador's flora and fauna.
Birds of Ecuador by Ridgely and Greenfield, 2001. This book is an excellent, important, but huge, addition if you are interested in Ornithology.
Wikitravel Ecuador page: http://wikitravel.org/en/Ecuador This site compiles some great travel advice about the country, its people, geography, history and climate. It is especially good for independent travelers.
What to Bring
Important: All of our Ecuadorian expeditions now contain at least some camping. Make sure you have all the camping items listed below.
A printable version of this list is in our participant checklist document.
When packing, keep in mind that you may have to walk extended distances with all of your luggage. It is best if you can get all of your gear into one bag and a carry-on item. Getting all your gear into one large backpacking backpack is an excellent way to go.
You must have all items in the essential gear and camping gear categories, or acquire them in Ecuador. Most of these items (except boots) are cheaper to get in the US. You cannot participate in this expedition without these items.
Check out SierraTradingPost.com for discounts on field gear and clothing.
a) Required Basic Gear
1) Rain poncho or jacket. Much of our work will be in the rain, and you must be prepared to get drenched often.
2) Lighting equipment: A bright water-resistant headlamp (headlamps are much better than flashlights for night work). If you are buying a new one, try to get the brightest possible LED you can get. Bring a spare flashlight for emergencies, ideally a bright flashlight for spotlighting things out of range of your headlamp.
3) Batteries: Bring enough batteries to change out your light once every other day. There will be some chances to recharge batteries during the trip, so you can bring rechargeables, but make sure to bring backups as well, since electricity will be only sporadically available. Be prepared to have a 8-day supply of batteries without recharging.
4) Insect repellant with DEET, enough to apply at least twice a day for the duration. For extra protection, you can treat your clothing with permethrin solution, which is particularly effective against ticks.
5) Small backpack, big enough for your water and some field equipment, such as a clipboard, large tape measure, or animal bags.
6) Drinking bottle, with least one-liter capacity.
7) Extra copies of all documents. Include a color copy of your passport and vaccinations. Keep your copies in a separate place from the originals.
8) Any prescription medications. Also write down your exact prescriptions, including dosages, and keep this separate from your medications.
9) Rubber rain boots. May be obtained in Quito for about $8 if your size is 11 or below. If you have larger feet than this, or if you want to be sure of a fit, bring some from home.
10) Wristwatch
b) Camping Gear
Camping is now included in each expedition, and very basic camping gear is required. Make sure you know about any camping requirements for your trip and be prepared with the following items. Safe water, as well as cooking and dining gear, are always provided.
1) Tent. Small 1-2 person tent. You will not need a tent large enough for all your gear, just enough for you and a few personal items.
2) Sleeping pad. A basic, lightweight foam or inflatable pad.
3) Sleeping sac or bedding. A lightweight sleeping bag, or sheet and blanket (some study sites are much colder than others--check to see if your bedding is appropriate for your expedition).
4) Pillow. Or just stuff a bag with clothes.
5) Backpack. In general, a large backpack is the best for hauling gear around from site to site. But a pack big enough for the above camping gear and personal items for up to 8 days is needed on backpacking trips; trips to Rio Bigal, Pata de Pajaro, Jama-Coaque and Congal include backpacking.
c) Recommended Gear
1) Field Clothing. For tropical forest work you will need clothes that both protect you and keep you cool.
Lightweight cotton or synthetic long pants. Shorts should generally be avoided to avoid insect bites. Avoid jeans or any heavyweight fabric, as it may not dry out before it mildews. Cargo pants with several pockets work well.

Lightweight cotton or synthetic shirts. But t-shirts may also be used, as long as insect repellent is judiciously applied.

A wide brimmed hat and sunglasses. These are helpful, but since most of our work is at night, they will mainly be used in transit and somewhat during occasional diurnal surveys.

A comfortable pair of rugged sandals, such as Tevas. Otherwise a pair of tennis shoes that you don't mind getting dirty will work. Hiking boots are usually not needed, as nearly all hiking will be done in rain boots (above). Keep in mind that, as with clothing, material that can dry easily is best.

Swimsuit. For swimming in the ocean at Punta Prieta and the streams at Pata de Pajaro.

Plastic Bag. To store your clean clothes in, and a mesh bag for your dirty clothes. Dry fabric left open to the humidity can accumulate mildew rapidly, and wet clothes that are contained do even faster.

A layer of warmer clothing (light jacket or fleece) for Quito and Pata de Pajaro.

Bandanas

Bring enough changes of clothes for about a week, and plan on using clothing (but usually not socks) for 2 or more days in a row. There will be an opportunity to do some laundry by hand, and we may be able to have laundry service once during the trip.
2) First Aid. We will have some of the basic first aid items available. You should consider bringing additional items as you might need them. For instance, if you are particularly accident prone, you may want extra Band-Aids. Or if you are susceptible to traveler's diarrhea you may want to bring Imodium.
3) Binoculars. You can pick up an adequate pair of binoculars for $40-50. However, if you are buying a high quality pair, you should look for ones that have close focusing (e.g. 2 meters) and wide aperture, for low-light environments such as rainforest. Eagle Optics (www.eagleoptics.com) sells a great line of waterproof binoculars with high-quality optics.
4) Sun Protection. Sunscreen and a wide brimmed hat are recommended.
5) Earplugs. The rooms we stay in are not soundproof, and you may have a noisy (e.g. snoring!) neighbor.
6) Water filter. We may be drinking either chlorinated or boiled water. Although this water is perfectly safe, if you would rather have clean tasting water, you may want to bring a personal backpacking water filter.
7) Extra Food. Our diets will be mostly vegetarian and seafood. If you are a meat-eater, you may want to bring some supplemental protein bars.
9) Deck of playing cards. You will learn "cuarenta", a local favorite game.
Bottom line: Pack as lightly as possible, use small and lightweight items, and plan on washing clothes. You will be carrying all your belongings over long distances at times.