Participate in Our Ecuadorian Field Program
2010 Expeditions: May 9-18, May 21-30
(Registering for our photography workshops? Click here.)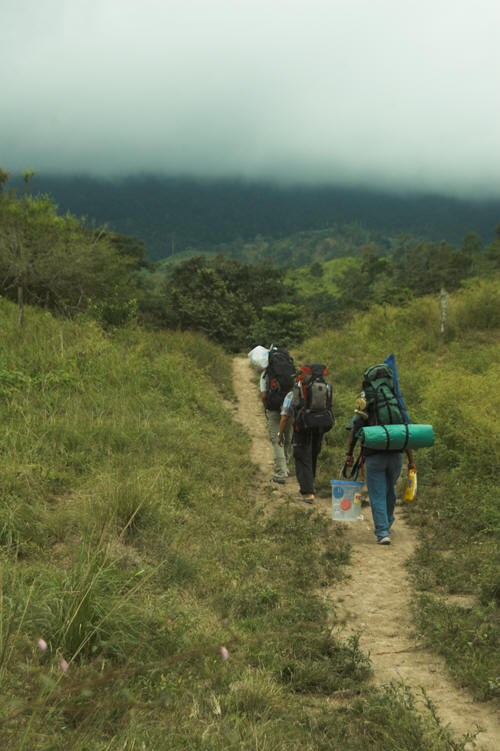 Our Ecuador research program is open for participation by volunteers, students, interns with a great enthusiasm for the subject, a solid work ethic, and the ability to work 10-16 hour days in remote, muddy, areas. This year's expeditions will be going to Rio Bigal in the Amazon Rainforest.
Applications should be completed by one month before any particular trip, but trips may be full before this time. If space is available within 30 days of the trip, consideration may be given to late applicants. But, the sooner you turn in your application, the better your chances for acceptance into the program. Make sure you have read through the expedition information on this site before applying. You should contact us with any questions before completing an application.
When you are ready, you can apply here.
Previous participants: take a few minutes to fill out our post-expedition survey.
Program Fees
Our current program fees are as follows:
One term: $1,200
Two terms: $2,300

Note: Those wishing to attend two terms will be responsible for paying for two nights accommodation between terms. We can arrange accommodations.
Full payments is due one month prior to departure. See our payment page for instructions.
Qualifications
We evaluate applicants on a variety of criteria, but the most important qualifications that you can bring to the project are enthusiasm and a good work ethic. Participants 18 years and younger need to be accompanied by a parent or legal guardian. Workdays can sometimes last up to 16 hours on the go. At some study sites, you will be required to hike with heavy loads up steep, muddy slopes; some sites are not for everyone! However, most of the actual field work is relatively low-exertion, as finding animals in the forest is very slow-paced. There will also be some challenging living conditions, and participants need to be prepared to be wet and/or muddy for many hours, or even days, in a row. You will have to be prepared to face a diversity of biting insects, and be faced with the possibility of serious illness, although both of these may be minimized by proper precautions. A knowledge of Spanish is helpful, but not at all required.
College Credit
Current students may apply for independent research or internship credit with RAEI and their current college or university. Depending on the requirements of your program, you may be asked to collect a unique data set, write a paper, and/or receive a written evaluation from your expedition leaders. If your program does not have a similar document, participants will fill out a signed agreement with RAEI and an academic advisor specifying the goals and deliverables of the experience. Those interested in continuing as an intern in Ecuador after the end of an expedition might consider our Ecuadorian internship program.
Expenses
What is paid for with your registration fees*:
Personal escort to and from airport
All local transportation
Three nights hotel in Quito
Housing in cabins on reserves
Three hot meals per day
Specialized field equipment and reading material
Individualized training on field methods
Guided forest walks with expert naturalists
Services and supervision of the guides and instructors
What is not paid for:
Airfare and $44 airport exit tax
Required Travel Insurance
Anything on the "What to Bring" List
More than three nights hotel in Quito
Two nights accommodation and food for participants staying for two terms.
Food in Quito
Alcoholic beverages and snacks
Optional trips and tours (e.g. a tour of Quito costs about $25 per person)
Tuition for independent study
Financial Aid
While we offer a 15% discount to residents of Latin America, we do not directly offer any other financial aid. We encourage students to inquire with their program offices to see if aid or grants are available. The Benjamin A. Gilman International Scholarship Program may provide support to Pell Grant recipients.