---
OPPORTUNITIES
  Join Our Field Team
Photography Workshops
Intern or Volunteer
Educational Outreach
e-Newsletter
---
Join a Photographic
Expedition to the
Amazon Rainforest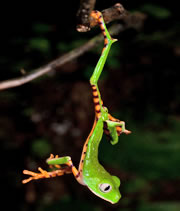 ---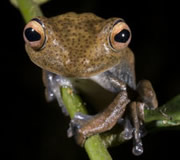 ---

Responsible Travel
In addition to preparing for numerous logistical and safety concerns, RAEI strives to make our ecological footprint as small as possible. We are sensitive not only to the need to gather valuable data in the field so that we may ensure the long-term survival of ecosystems, but the immediate impact of our activities. To address this concern, we undertake the following steps:
Whenever possible (almost always), we utilize public transportation.
We avoid non-sustainable harvests, such as shrimp and beef, in our group meals, Shrimp farming off the coast of South America is responsible for the wholesale destruction of sea turtle and mangrove populations. Cattle grazing is responsible for a large majority of deforestation on and around our study sites, and is also responsible for as much greenhouse gasses (in the form of methane) as all automotive transportation in the world.
We take these steps because we realize how important they are to save the very animals and ecosystems we hold dear. Indeed, the ecosystems in many of our study sites--and the unique species that live there--are expected to disappear from the Earth forever if we do not act on these vital issues now.
APPLY TO OUR
RESEARCH PROGRAMS
---
Application Process
Application
Fee and Deposit Payment
Responsible Travel
Post-expedition Survey
---
Application Tips
• We accept participants from all walks of life.
• Our research trips can be physically and mentally demanding.
• Make sure you have asked all questions before applying.
---
Meet some of our previous research participants.
---