---
OPPORTUNITIES
  Join Our Field Team
Photography Workshops
Intern or Volunteer
Educational Outreach
e-Newsletter
---
Join a Photographic
Expedition to the
Amazon Rainforest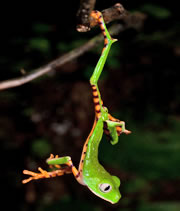 ---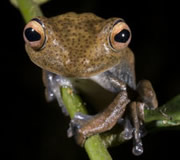 ---

Travel and Itinerary
Itinerary
This is a typical itinerary for our 12-day expeditions. Actual number of days at each site, as well as number of sites, will vary. Other factors, such as weather or labor conditions, may also cause deviations from this schedule. Two-week expeditions will visit three of our four sites. Four and six week expeditions will visit some sites more than once, with a three day break in between sites. Participants staying for more than one expedition will have the option to vacation at Canoa, stay with the group and go to Quito and back, or travel independently. Important: we are not responsible for expenses incurred in-between expeditions, nor are we responsible for your safety should you decide to travel independently of the rest of the group.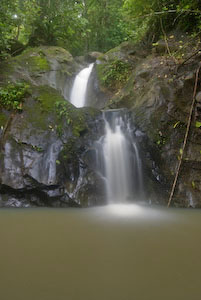 Day 0 (Prior to start of expedition): Arrive in Quito, meet the staff and other participants and take a taxi to the hotel.  If you arrive early in the day, or on a previous day, you will have time to explore the city. However, if you arrive prior to the first day, you will need to arrange your own transportation from the airport as well as accommodations.

Day 1: We wake up early this morning and get a quick breakfast. We then take taxis to the bus terminal and start the sometimes adventurous trip down the Andes. We may have a chance for a short lunch or snack before getting on another bus, truck, and/or taking a hike to get to our field sites. We will then settle into our rooms or set up camp and prepare and/or have dinner. Any remaining time this afternoon, as well as the night, will be dedicated to training. You will familiarize yourself with our GPS system, TRANSECT data recording system, animal searching and capturing techniques, among other items. Time permitting, we will even conduct a transect or area search this first night.

Days 2-8 These will be our typical field days. We will wake up slowly and spend the rest of the morning and afternoon "processing" animals that we have captured the night before. For this, you will learn laboratory techniques in examination, measurement, photography, and sample collection. Some days we will have opportunities for day hikes, during which we can look for diurnal lizards, snakes, and frogs.

However, the bulk of the field work is at night. Starting right after dinner and going until about midnight, we will be on the trails searching for animals, taking photographs, conducting habitat measurements and capturing animals.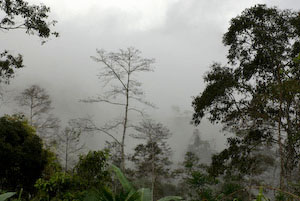 Depending on your trip, we may be travelling from one study site to another in the middle of the trip.

Day 10: On the morning of the 9th day, we head out of the forest. For coastal projects, the last night will be spent at Canoa, a beach town where we will enjoy a great seafood dinner with dancing after. For Amazon trips, we will be spending the night with great food in ecotourist cabins with volleyball and plenty of opportunities for cold beverages, having fun or just resting.

Day 11: We head up the mountains for Quito. For Amazon trips, we will stop for a couple of hours at Papallacta Hot Springs, for a warm respite after 10 days of cold showers. We get into Quito at about dinner time, grab a bite to eat, and then you are on your own. Once back in Quito, you are on your own to explore the city and countryside. There is plenty to see in Ecuador, and you might want to plan some extra days, or even weeks, after the project. Check with us about ideas for independent travel in Ecuador.
Accommodations
Accommodations will vary among sites. At La Perla, we will be camping, but will have food catered by a local restaurant and cold showers are available. At Pata de Pajaro and Rio Bigal, we will be camping in primitive conditions. Food will be served by staff, and we may ask you to help out a bit in the kitchen. Bathing will be done in a local stream. Note: for crucial environmental concerns, RAEI does not purchase or provide beef or shrimp at any time. Vegetarian meals are always available on request.

Important Travel Information
See our participant checklist for more detailed steps on getting ready for your expedition.
You will need to purchase airline tickets for round-trip flights to Quito (via Houston, Miami, or Panama City), to arrive in Quito before the starting day of your project, and leaving after the last day. For all participants, a $44 airport exit fee must be paid, in cash, upon leaving the country, and is not an included expense. Ecuadorian currency is the U.S. dollar. A valid passport will be needed and should be applied for as soon as possible if you don't already have one. IMPORTANT: your passport must not expire until at least six months after your date of arrival. Verify that your passport is valid for the exact dates of travel. For participants with non-US passports, you may need to apply for a visa as well, contact the Ecuadorian consulate for the most current requirements.
For many points of departure in the US, flights can generally be purchased for $1,000 or less, and sometimes as low as $650. After landing, you will be met at the airport and brought to our hotel in Quito. You will then be escorted throughout the trip by your group leaders, although there will be some opportunities to explore the areas independently or in groups away from the main study areas. However, if you are arriving earlier than the day before your expedition, you must arrange your own transportation to the hotel.

You also need to consult a physician about traveling to Ecuador, and acquire traveler's insurance. You will be required to sign an affidavit to confirm these steps one month prior to departure. Your traveler's insurance must have a medical evacuation clause; we recommend at least $50,000 medical evacuation coverage. Basic insurance for travelers under age 30 can be found at www.TripPlus.com, which starts at $25. More complete coverage can be found at www.insuremytrip.com, which is an agent site which will let you choose from many options.

Some references that might come in handy for traveling and working in Ecuador are:

US Department of State Passport Application Page: http://travel.state.gov/passport/passport_1738.html

The US Centers for Disease Control and Prevention web site for travel to Ecuador: wwwnc.cdc.gov/travel/destinations/ecuador.aspx. A good place to research on your own, and be prepared when you consult with a physician prior to travel.

The Ecuadorian embassy in Washington, D.C., will have the latest travel document requirements: http://www.ecuador.org/nuevosite/index_e.php

Wikitravel Ecuador page: http://wikitravel.org/en/Ecuador  This site compiles some great travel advice about the country, its people, geography, history and climate. It is especially good for independent travelers.
What to Bring
See our participant checklist and instructions for a complete list of what to bring.
ECUADORIAN BIODIVERSITY PROJECT
---
---
Meet some of our previous participants in our Ecuador program.
---
See Photo Galleries of our Ecuadorian Study Sites & Field Crews
---