---
OPPORTUNITIES
  Join Our Field Team
Photography Workshops
Intern or Volunteer
Educational Outreach
e-Newsletter
---
Join a Photographic
Expedition to the
Amazon Rainforest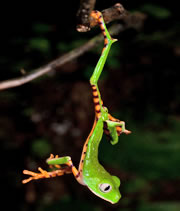 ---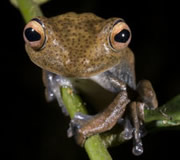 ---

Join Our Field Teams!
You are invited to apply to work on our research projects in some of the wildest spots on Earth! Our research trips are geared for anyone who wants to work hard in sometimes tough situations, get muddy, chase lizards, measure snakes, photograph turtles, catch insects, and study frogs. We currently offer opportunities in western Ecuador, the Amazon rainforest, and Alamos, Mexico:
Our expeditions to western Ecuador and the Amazon rainforest take participants to some of the most biodiverse areas on Earth. We have counted hundreds of species of reptile and amphibian on our study sites, including over 30 new to science. Join us to find more!

Our investigations in Mexico take place near the colonial town of Alamos in the foothills of the Sierra Madre Mountains, which contain one of the most unique collections of animals and plants in the world. We work on desert tortoises, Mexican beaded lizards, and Mexican leaf frogs to name a few. Join us!

(Photo: Lisa Idema)

Stay tuned for research trips to Vietnam--an annoucement will be made in Fall 2012.
APPLY TO OUR
RESEARCH PROGRAMS
---
Application Process
Application
Fee and Deposit Payment
Responsible Travel
Post-expedition Survey
---
Application Tips
• We accept participants from all walks of life.
• Except for under 18 trips to the Amazon rainforest, all expeditions are for ages 18 and up
• Our research trips can be physically and mentally demanding.
• Make sure you have asked all questions before applying.
---
Meet some of our previous research participants.
---